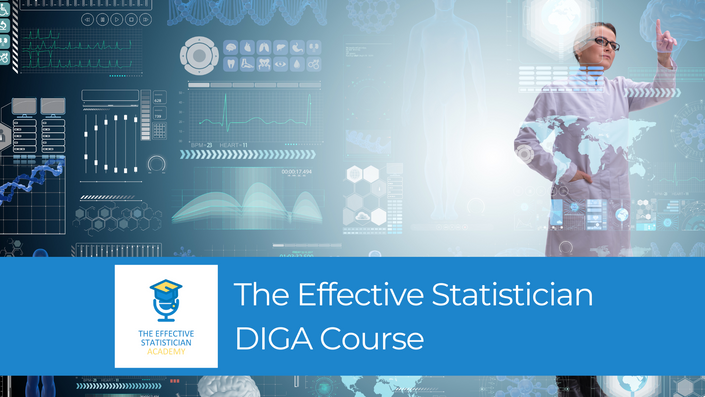 The Effective Statistician DIGA Course
Digital Health Applications – opportunities for statisticians to drive innovation
Are you curious about the opportunities for adding value through digital health applications?
Do you want to be among the first to know about Digital Health Applications (DIGA) and why Germany plays such an important role here?
Do you want to leverage the opportunities around DIGAs for yourself or your organisation?
When I first heard about these outstanding opportunities, I was absolutely thrilled.
I'm sure, you'll be too!
Through The Effective Statistician DIGA Course you will understand
What digital health applications (DIGA) are and how they are re-imbursed in the German public healthcare system,
How the process works for getting a new DIGA approved for re-imbursement, and
What is the status around the first approved DIGAs.
You will learn from Stefan Walzer – one of the leading experts around DIGAs.
After the course, you will have a clear understanding of all the steps from generating an idea to getting an approved DIGA.
You will also be able to answer questions from your colleagues about the opportunities of DIGAs.
You will be perfectly equipped to seize these amazing opportunities for driving innovation.
The Effective Statistician DIGA Course in detail:
About 1.5 hours of videos broken down in easy to view segments (lifetime access)
Access to 4 one-hour questions and answer sessions with Stefan and Alexander spread over May, June, July, and August. These will be recorded and made available.
Save your spot now and enrol into The Effective Statistician DIGA Course!
Your instructors:
Stefan Walzer
Dr. Stefan Walzer has more than 15 years experience in payer strategy, pricing, health economics and reimbursement submissions and is the founder and general manager of MArS Market Access & Pricing Strategy GmbH based in Germany. He previously worked as a payer consultant for various global pharmaceutical and medical device / diagnostic companies, successfully launching their products across the world. Dr. Walzer was also the Global Payer Strategy Leader for various products and compounds of F. Hoffmann – La Roche AG, where he successfully developed early payer strategies as well as launching and maintaining the reimbursement process for top brands and early compounds. Dr. Walzer is experienced in the development of early payer strategies and the related evidence generation. Furthermore he is also capable in translating the clinical and economic evidence into successful reimbursement submissions and pricing negotiations especially in Austria, Germany and Switzerland. Additionally he also teaches at the Master course of Consumer Health Care at the Charité in Berlin (Germany) and is a tutor in market access and health technology assessment at the State University of Baden-Wuerttemberg (Germany).
From 2018-2019 Dr. Walzer was the head of the committee "Inpatient care" of the German Health Economic Association (DGGÖ). Furthermore he is a leading member of the Special Interest group for Medicial Nutritions at the International Society for Pharmacoeconomics and Outcomes Research (ISPOR). Dr. Walzer is also a member of the Austrian Health Economic Association (ATHEA) and the newly founded Swiss Health Economic Association. Additionally, he is also a member of the Access Advisory Committee of the Global Pneumonia Prevention Coalition.
Dr. Walzer received a Master of Science in Economics from the University of Tuebingen (Germany), a PhD in Health Economics from the University of Zurich (Switzerland) and a Diploma in Clinical Trials from the London School of Hygiene and Tropical Medicine (UK). He is co-author of more than 40 peer-reviewed scientific articles and more than 100 scientific abstracts. Furthermore Dr. Walzer is the Editor in Chief of the German Journal of ClinicoEconomics (www.germanjournal-clinicoeconomics.de) and the lead author of the book chapter "Vergütungshöhe und Preissetzung" [Reimbursement value and pricing] in Business Planning in Health Care (http://www.springer.com/de/book/9783658081850).
Alexander Schacht
Dr. Alexander Schacht is a Statistician, Founder and Creator of The Effective Statistician, which includes a weekly podcast, several online courses and regular new content via social media. Alexander studied mathematics and received his PhD in biostatistics on non-parametric statistics from the University of Göttingen in Germany. He has authored more than 70 scientific manuscripts in peer-reviewed journals and regularly speaks at international conferences, such as PSI and EADV. With more than 20 years of experience working as a statistician in healthcare, Alexander is working primarily on phase IIIb and IV (RCT, observational studies, HTA submission, commercialisation work) with some regulatory work, as well as some work within the early phases of clinical development. Alexander is interested in a broad range of methodological areas with a specific focus on helping pharmaceutical and biotech companies make better, data-driven decisions. In fact, this keen interest saw Alexander become the chair of the EFSPI/SPI SIG on benefit-risk, founder and chair of the data visualisation SIG and the Launch and Lifecycle SIG. Alexander has also served PSI as a board director responsible for communications. Alexander is a happy husband and father of three wonderful kids, who he credits for his continued passion and drive to help patients worldwide. In his spare time, Alexander loves running and listening to podcasts.
Save your spot now and enrol into The Effective Statistician DIGA Course!
Frequently Asked Questions
When does the course start and finish?
The course material will become available mid May 2023. The first Q&A with Stefan and Alexander will start end of May.
How long do I have access to the course?
How does lifetime access sound? After enrolling, you have unlimited access to this course for as long as you like - across any and all devices you own.
What if I am unhappy with the course?
We would never want you to be unhappy! If you are unsatisfied with your purchase, contact us in the first 30 days and we will give you a full refund.
Save your spot now and enrol into The Effective Statistician DIGA Course!